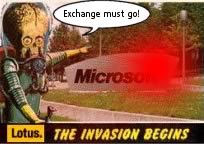 A customer who is migrating from Exchange to Lotus Domino (for whatever reason and less likely the other way round) will be looking for a coexistance solution.
Microsoft Transporter for Lotus Domino
features directory syncronisation and free/busy lookup.
With IBM Lotus Domino 7 a new webservice based freetime lookup feature was implemented but as Microsoft Exchange does not support that yet this tool is currently the only way to have free/busy information in a mixed environment with the two products.